Gourmet Corner N° 35

Canada 2009

Montreal & Toronto

by Freddy Santamaria

An Introduction…

MONTREAL

In 1760, France lost the colony that became Montreal to the British, but the French influence is permanently imprinted upon this cosmopolitan Canadian city of almost two million people. Outdoor cafes, numerous parks crisscrossed with cycling paths and energetic nightlife scene contribute to the "joie de vivre" that permeates the air.

Top 10 Attractions

*

Montreal Botanical Gardens (Jardin Botanique de Montreal)

> 4101 Rue Sherbrooke E. - Tel: 514 872 14 00

*

Notre Dame Basilica (Basilique Notre Dame)

> 110 Notre Dame W. - Tel: 514 842 29 25

*

Old Montreal (Vieux Montreal)

*

Montreal Museum of Fine Arts (Musée des Beaux Arts)

> 1380 Rue Sherbrooke W. - Tel: 514 285 1600

*

Museum of Archaeology & History (Pointe-a-Calliere Museum)

> 350 Place Royale - Tel: 514 872 91 50

*

Mont (Mount) Royal

> Information Center - Remembrance Road - Tel: 514 843 82 40

*

Jean–Talon Market

> 7075 Casgrain Ave. - Tel: 514 277 15 88

*

Saute Moutons/Lachine Rapids Jet Boat Tours

> 47 de la Commune W. - Tel: 514 284 96 07

*

Moldavie

> 1 Rue St. Paul W. - Tel: 514 287 9582

*

Boulevard Saint-Laurent

** Montreal's Best Views **

Le Pier Cité du Havre

Take in "a panoramic view of downtown and the mountain" from Le Pier Cité du Havre, famous for Habitat 67, an experimental (and controversial) housing complex built during the Montreal

World's Fair (Expo 67).

Olympic Tower

The view from the 574-foot Olympic Tower, the tallest leaning tower in the world,

"truly is amazing & definitely worth the visit. You get to see all of Montreal and the elevator on the way up is really fun; it has glass so you get to see the city" en route.
> Pierre-de-Coubertin Ave. (near Metro Pie-IX)

Mont Royal

Take a ride up 761-foot Mont Royal "to see a beautiful view of the city for free, lots of people exercising & taking pictures and The Smith House, a beautiful chalet-type building with lots of stairs for resting." The pleasant Mountain spot is the only truly elevated area in Montreal.

Renowned for its sensational and original restaurants and as a centre for French cuisine par excellence, Montréal is part of a select group of 15 cities to join the prestigious World Good Food Cities Network in 2007. Over 80 different kinds of food are served in 6,000 restaurants, from 5-star to soul-comforting smoked-meat counters

.

Montréal is the most bilingual metropolis in North America and the second largest French-speaking city in the world after Paris. Located on an island 499 km2 in the middle of the St. Lawrence River, it was colonized by the French and later the British.

Today the population of Greater Montréal is approximately 3.6 million, with 53% of its inhabitants bilingual (French and English) and 20% using a third language (in addition to French and English). Montréal ranked first for university research in Canada – small wonder for a city with two French-language and two English- language universities!
Old Port & Marché Bonsecours - © S.Poulin
Joie de vivre! …Way of life!
Montreal, less provincial then Quebec City, is the most friendly and welcoming of the big Canadian cities, the people are warm and helpful, on the streets, markets, bars & restaurants.
Speaking about restaurants, Montreal has thousands of them, in the old town, the city center or in the indigenous neighborhood. The French culinary influence is found in most of them, and the atmosphere is convivial and full of "joie de vivre".
I will not introduce you to the top restaurants in the city. Your hotel concierge can advise you, according to your tastes and preferences.
Be aware also that restaurants in Montreal are more easy on the "way of life" and in many "restaurant terraces" it is possible to smoke, where it is otherwise "impossible" in cities like Toronto or Vancouver.
My introductions tend towards restaurants of indigenous food, gems of the miscellaneous cuisines, which are part of the "melting pot" of nationalities in the city – and some times not easy to find.
Place Jean-Paul-Riopelle - © S.Poulin

** The Gourmet Corner **

To balance the French influence in Montreal gastronomy, my taste goes for another "Latin" influence – Basque & Portuguese, those along with the French form part of the first immigrants to arrive to the city.

PINTXO

"Pintxo",

the Basque word for "tapas". This tucked-away restaurant draws from the Spanish Basque tradition, going in for exquisitely composed dishes at fair prices in pleasant surroundings.

The Mexican chef Alonso Ortiz spent 5 years in the kitchen of the top chef, Arzak, in the Basque Country, the region in north-central Spain known for its gastronomical audacity.

His performances take place in an open kitchen in the middle of a two-part room with antique wood floors and brick walls.

What is a pintxo?

Pintxos

or "banderillas" are small and extremely varied servings that can either be simple such as the "gilda"(guindilla, anchovies & olives) or more elaborate, reaching even further culinary levels.

Beyond being a simple culinary form, pintxos it is also a form of socializing. The

"txikiteo" or "tapear" is a social lifestyle between friends that gather from bar to bar to taste the various culinary whims of each establishment — in Montreal only at Pintxo.

What is the origin of a pintxo?

It is a traditional Basque cuisine that has, throughout time, been recognized for its quality principal ingredients and its superb seasonings. Although fish is the main ingredient, it does not overshadow the meats such as the pork chops, the chateaubriand, the lamb, or the cheeses and its derivatives such as the

"cuajada" (curdled milk) The codfish "queen" of the "Bizcaia" has been the basic staple in Basque dishes since the era of capturing it in the Atlantic, and curing.

One can also sample the

"marmitako", the "txipirones" (calamari) set in its own ink, "ondarresa" style hake trips, and Basque style "morros", stuffed peppers, rice cakes or "canutillos"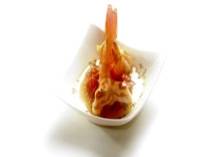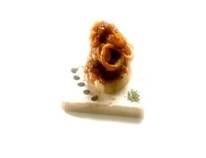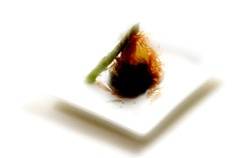 It is difficult for me to advise you on the correct

choice among the "33 pintxos" on the menu.

I think the best formula is to start on your first visit is to take the:

Menu Dégustation:

[C$ 30.00]

Four (4) Pintxos, of the day, choice of the chef, and one main dish of your choice, ten (10) dishes of choice. The

price of the Pintxos goes from C$ 4.00 to 10.00 and the price of the Main Dishes from C$ 16.00 to 38.00.

Among the Pintxos, I will recommend:

Bakalao, Veiras, Langostinos, Calamar, Alcatxofa, Morcilla, Gazpacho, Carpatxo de Pulpo ……

For the Main Dishes:

Chuletas de Cochinillo, Jarrete de Cordero, Fabada Asturiana, Bakalao Negro, Chuleton & Esparragos ……

Opening Hours

:

Lunch: Wednesday to Friday from 12:00 to 2:00 PM
Dinner: Monday to Saturday from 6:00 to 11:00 PM
Sundays from 6:00 to 10:00 PM

PINTXO

256 Rue ROY Est (Two blocks West of St-Denis)
Montreal
Tel: (514) 844-0222
Chef: Alonso Ortiz


Maître D': Ignacio Montaňez


FERREIRA CAFÉ

It is said that laughter and good times are fueled by exquisite food. All of these can be found at Ferreira Cafe, Montreal's veritable ambassador of Portuguese Cuisine, since 1995.

Portuguese at its best! Ferreira Cafe has what is widely considered to be one of Canada's top Portuguese wine cellars, with an exceptional selection of wines and ports.

For

executive chef Marino Tavares, each plate is an opportunity to unveil his culinary art and to carry on the fine Ferreira tradition of creativity and delight. His knowledge in the preparation of seafood, fish dishes and "Ferreira Cafe's Lamb Chops", prepared in an olive and dried tomato crust, is renown.

If you are not familiar with the Portuguese cuisine, I recommend to start with the:

"

Assiette Ferreira" or Sampler Plate with:

Calamari, Quail, Sardines & Chouriço … a plate to share for four (4) persons, but can be for two or three at – C$ 42.00 —

a delight!

"Grilled Calamari"

with lemon & smoked paprika at – C$12.00

"Warm Sliced Octopus"

with chick peas puree at – C$17.00

"Caldo Verde Soup"

(Portuguese typical soup) at – C$8.00

"Tomato Gaspacho"

with scallop ceviche & coriander at – C$12.00

Other interesting dishes to discover:

"Pork Shank Cake"

with:

Seared shrimp, potato salad, cabbage, "gribiche" sauce at – C$13.00

"Seared Scallops"

with potatoes, onions, "Serra" cheese at – C$15.00

On the list of Ferreira's Classics:

"Alentejana"

- Roasted pork fillet, clams, fried potatoes at – C$32.00

"Roasted Salted Cod Fish"

- onion compote, chickpeas at – C$29.00

"Rack of Lamb"

– grilled Portuguese style at – C$39.00

"Portuguese Style Grilled Chicken Breast"

at – C$28.00

"Cataplana Fish and Seafood Bouillabaisse"

at – C$36.00

"Seafood Rice Casserole"

at – C$39.00

"Porcini Crusted Roasted Black Cod"

- port reduction at – C$38.00

And of course,

"Daily Selection of Grilled Fresh Fish"

For Dessert,

"Fresh Fruit Salad" at C$12.00

Because a meal isn't a Portuguese meal without wine, the restaurant has assembled a well-stocked wine cellar that carries the finest bottles from Portugal's wine regions

. Ferreira Café's private imports are widely considered among the top Portuguese wine reserves in Canada. The list is too long to be included, with a large price range that goes from C$25.00 to C$550.00

As a start to taste the Portuguese wine, your choice can be a typical

"Vino Verde" – Quinta de Aveleda 05 at the price of C$25.00, the cheapest on the extended wine list, but excellent.

And don't forget to finish your meal with a glass of

"Port" or something stronger such as "Portuguese Agua Ardiente".

Opening Hours

:
Lunch: Weekdays from 12:00 to 3:00 PM
Dinner: Monday to Thursday from 6:00 to 11:00 PM
Fridays & Saturdays from 6:00 to 11:30 PM
Closed on Sundays

FERREIRA CAFE

1446 Rue Peel (Downtown)
Montreal
Tel: (514) 848-9375
Owner: Carlos Ferreira
Chef: Marino Tavarés
Maître D': Victor Dias
Sommelier: Alain Bélanger
My waiter: Roberto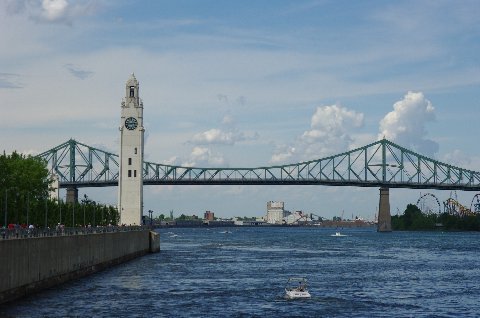 Saint Laurent River © Freddy Santamaria

** MONTREAL HOTELS **

Montreal has approximately 190 hotels to choose from, and the best way to make the choice is to contact:

www.tourisme-montreal.org /- Accommodations

My selection goes for one classic hotel located

at the center of Montreal's vibrant cultural and commercial district, the city's grandest and most gracious hotel –

Fairmont The Queen Elizabeth

From the moment this luxury hotel in Montreal opened its doors in 1958, Fairmont The Queen Elizabeth has welcomed queens, princes and princesses, heads of state and international business leaders.

Political dignitaries include the Queen Mother, Queen Elizabeth II and the Duke of Edinburgh, Prince Charles, General Charles de Gaulle, former Prime Minister Indira Gandhi of India, Zhao Ziyang of China, His Highness Felipe of Spain, Jacques Chirac, Nelson Mandela, the Dalai Lama, Mikhail Gorbachev, President Jimmy Carter, and Henry Kissinger.

The celebrity guest list includes Perry Como, Harry Belafonte, Joan Crawford, John Travolta, Mikhail Baryshnikov, Louis Malle and, perhaps most famous of all, John Lennon, who held his famous 'bed-in' in 1969 in Suite 1742, where the song Give Peace a Chance was written and recorded.

Located above the Montreal's train station (Via Rail & AMTRAK) and connected to the extensive underground city of thousands of boutiques, restaurants and cafés, and within walking distance of sports and cultural attractions, this Montreal hotel reflects the city's distinct elegance and

charm.

Offering 1,037

rooms, (smoking floors available) of which 100 are suites, this landmark hotel in Montreal is celebrated internationally for its world-class accommodations

Fairmont The Queen Elizabeth comprises 50,000 square feet of

meeting space, a skillfully integrated Health Club featuring state-of-the-art equipment and an indoor pool, as well as three distinctive venues to experience Montréal's gastronomy at its best.

Room Prices are around C$350.00 (average) pending of your room choice, with special discounts for senior citizens.

My choice goes for the

"Fairmont Gold" rooms on the 18th - 19th floors with views of the St Laurent river or the city. A private elevator will take you direct to the "Salon Fairmont Gold" on the 18th floor for registration. – Supervisor Mariano D'Agostino
mariano.dagostino@fairmont.com

Fairmont The Queen Elizabeth

900 Rene Levesque Blvd. W
Montreal, Quebec
Canada
H3B4A5

Toll Free: 1 (866) 540-4483
Tel: (514) 861-3511
Fax: (514) 954-2296
E-mail:

queenelizabeth.hotel@fairmont.com

TORONTO

Humans began to occupy the Toronto region shortly after the last Ice Age. Many thousands of years later,

in the 17th century, these indigenous peoples opened trade with the French, who subsequently established trading posts in Toronto in the 18th century.

Toronto passed to British control in 1763, and the creation of an urban community began 30 years later when colonial officials built Fort York and laid out a town site.

That community, York, became the capital of the province of Upper Canada (now Ontario). It also grew as an important commercial centre, and

in 1834, with 9,250 residents, was incorporated as the 'City of Toronto.'

The population continued to expand: when Canada became a country in 1867, the city was home to 50,000 souls. By 1901, 208,000 people lived here.

Today, with well over two million people, Toronto is Canada's largest city,

the heart of the nation's commercial, financial, industrial, and cultural life, and is one of the world's most livable urban centers and home to the world's tallest tower (CN Tower at 553.33 m).
CN Tower © Freddy Santamaria

Compared to Montreal, Toronto is more formal and conservative, and the "way of life" & "joie de vivre" is the opposite to Montreal.

First:

The Ontario Alcohol Act, where the minimum cost for a bottle of wine in a restaurant is around C$50.00. (Double the cost in Montreal)

Second

: The Smoke-Free Ontario Act (2006), prohibits smoking in enclosed workplaces and public places, – Including the beautiful Bar & Restaurant Terraces along the Harborfront of Lake Ontario.

And only "two" hotels (officially) have smoking floors:

The Fairmont Royal York (on the first floor facing Toronto Station) The Cambridge Suites Hotel (not guaranteed even with Credit Card)

As the world's most ethnically diverse city, Toronto also has distinctive shopping districts and markets that offer a wide range of unique shopping experiences.

These vibrant retail areas include Queen Street West, Kensington Market, St. Lawrence Market, five Chinatowns, Little Italy along St. Clair West, the Greek community along "The Danforth," Little Portugal at Dundas and Bathurst Streets, and Gerrard India Bazaar at Gerrard and Greenwood

The Tourist Office in Toronto

can help you plan your vacation. Whether you're interested in finding a place to eat, a hotel room, a list of attractions, or convention space, you can build your itinerary by visiting: Tourism Toronto.

TORONTO ATTRACTIONS

*

St. Lawrence Market


Considered by Food and Wine Magazine to be one of the world's 25 best food markets, the

St. Lawrence Market is located in the heart of the historic Old Town Toronto neighborhood at Jarvis and Front Streets.

The South Market houses more than 50 gourmet food vendors and over a dozen lunch counters. Upstairs, the Market Gallery shows archival art and photographs from the City's collection and the North Market is home to the 200 year old Saturday Farmers' Market and Sunday Antique Market.
St. Lawrence Market

*

The Eaton Centre

Built in 1979, it boasts $746 of sales per square foot of retail space - the highest in North America – and is the number one tourist attraction in Toronto with one million visitors a week. Modeled after the Galleria in Milan, Italy, the Eaton Centre was among the first major downtown shopping centers constructed in North America.

*

PATH

Path is downtown Toronto's underground walkway linking 27 kilometers of shopping, services and entertainment. Follow PATH and you'll reach your downtown destination easily in weatherproof comfort. Download a printable

PATH map

PDF file format (500 kb).

*

CN Tower (at 553.33 m)


Recently nominated as one of the Seven Wonders of the Modern World, the CN Tower features glass floor observation decks, a revolving restaurant, and a Simulator Theater. It is Toronto's most recognizable landmark and, as such, receives almost two million visitors annually.

*

Harbourfront

Like most big cities with a water's edge, Toronto's downtown waterfront has gradually been transformed into a lakeside people place. The heart of this revitalization is the award-winning Harbourfront Center - the site of art galleries, theaters, craft boutiques restaurants, offices, hotels and marinas fronted by a waterside promenade.

*

Toronto Islands

Only a 10-minute ferry ride from the foot of Yonge Street, the Toronto Islands offer a panoramic view of the city skyline. Center Island offers miles of parkland with beaches, barbecues and picnic tables, boat rentals, bicycle paths, a children's farm and even an amusement park.

*

Ontario Place


A 96-acre modernistic culture, leisure and entertainment parkland complex built on three human-made islands over the lake, Ontario Place features restaurants, a children's village, an outdoor amphitheater, a water play area, mini-golf, the Rush River Raft Ride and many other attractions.

The highlight of Ontario Place is the Cinesphere – a six-story curved screen capable of showing not only regular 35 and 70-millimeter films, but IMAX films as well

.
*
Toronto's Waterfront
One of North America's largest recreational waterfronts - provides a scenic backdrop for many popular and entertaining attractions
** TORONTO HOTELS **
With more than 32,000 hotel rooms, Toronto has more available accommodation than any other Canadian city and the highest occupancy rate (73 per cent)
Major Hotels (103)
Hotels (103)
Luxury Hotels (18)
Apartment Hotels (13)
http://www.toronto.com/
www.seetorontonow.com/
My selection goes again for one classic hotel located
at the center of Toronto's vibrant cultural and commercial district, the city's oldest and most traditional hotel.

The Fairmont Royal York

On June 11, 1929, (celebrating 80 years, this year)

the hotel officially opened as The Royal York. It was the tallest building in the British Commonwealth and quickly set the hospitality standard of the day. The magnificent hotel became known as a city within a city, rising in 28 floors of architectural splendor
Room Prices are around C$350.00 (average) pending of your room choice, (Fairmont Gold) with special discounts for senior citizens.
Chef Concierge: Paul Marino –
paul.marino@fairmont.com
The Fairmont Royal York
100 Front Street W
Toronto, Ontario
Canada
M5J1E3

Toll Free: 1(866) 540-4489
Tel: (416) 368-2511
Fax: (416) 368-9040
E-mail:
royalyorkhotel@fairmont.com
Toronto City Hall Square © Freddy Santamaria

** The Gourmet Corner **

Toronto has many restaurants (list enclosed)

Restaurants (167), with selection by categories and neighborhoods, not all of them to be part of the Gourmet Corner, some very "hip", some very trendy, and many with nice terraces, but not gourmet delicacies.

Some very "hip & trendy" as my first experience on my first evening in Toronto: —

Kultura Restaurant – "Social Dining" [that is what the restaurant reclaims]. Well! Social nothing!

The Fusion food is ok, but with very small portions at high prices

. And – "SERVICE = ZERO" – No savoir faire! - No Joie de vivre!
So, if you can avoid this restaurant it is better!
The first time in my life I have left a restaurant without leaving a tip!
Of course, therefore, no address! Finding it is up to you!

My "Gourmet Corner" of Toronto goes for two restaurants, not included on the restaurant list and away from the downtown center. And, as with Montreal, two "Latin" restaurants!

TORITO TAPAS BAR & RESTAURANT

Spice it up at hot Kensington Market Augusta Strip, (North of Chinatown neighborhood)

hangout:

"Torito Tapas Bar & Restaurant" which mixes Spanish, Chilean and Argentinean flavors with aplomb.

The setting is modest (narrow interior) but crisply appointed. With bucolic picnic tables seating arrangements, warm exposed brick walls, local artwork, bullfighting posters and elegant olive oil and piquillo peppers methodically lined up on display

.

Veronica Laudes, (from Chile) owner of the restaurant with partner Luis Iglesias,

zips around the cantina, to present one of the best (if not the best) tapas hangout in Toronto.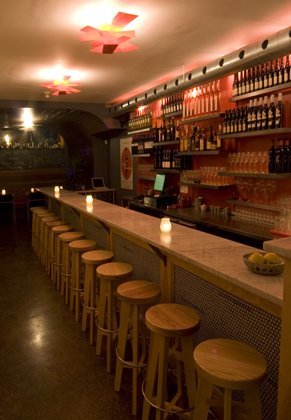 The menu is mainly "tapas" with some interesting dishes.

My favorites are:

Fish Ceviche, corn & yams
at – C$11.00
Spanish Tortilla
at – C$8.00
Jamon Serrano with seasonal garnish
at – C$9.00
Piquillo Peppers Stuffed/Salted Cod/Tapenade
at – C$10;00
Pan Fried Sardines/Romano Beans, Fennel …
at – C$10.00
Merguez, Crispy Polenta & Tomatoes
at – C$12.00
Crab Croquettes with Parsley Aioli
at – C$12.00
Grilled King Fish with Basquaise Sauce
at – C$13.00
Shrimps al Ajillo
at – C$13.00
Patatas Bravas and Chorizo
at – C$10.00
Grilled Flat Iron Steak, Gallega Chips, Egg
at - C$13.00
Chilean Tripe Stew
at – C$10.00
Chestnut and Chorizo Soup
at – C$8.00
Albondigas
at – C$10.00

For Dessert:
Churros con Cajeta at – C$8.00
Figs, Bleu Bénédictin Cheese/Mil Flores Honey

at – C$8.00

Great selection of wines (white & red)

— Prices: C$ 34.00 to 65.00
From: Argentina, Italy, Spain, Chile & Canada Beers from Spain & Belgium at – C$5.95
Excellent choice of Sherrys at – C$ 5.00 to 10.00 (glass)
And to finish with "Pampero Ron" (Aňejo, Venezuela) at – C$8.00

TORITO TAPAS BAR & RESTAURANT

276 Augusta Avenue — at College Street
Toronto
Transport Streetcar N° 506.
Tel: (647) 436 5874
Open: Monday to Saturday from 6:00 to 11:00 PM -
Closed on Sundays
Owner: Veronica Laudes & partner Luis Iglesias
Chef: Luis Valenzuela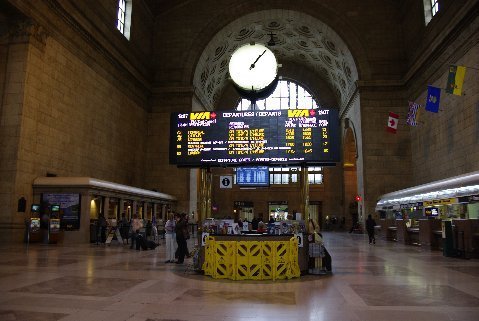 Toronto Station Hall & Caribou on a Balcony © Freddy Santamaria

CHIADO

Since it's inception in August 1991, Chiado has promoted various styles of cooking from across Portugal to offer its patrons a taste of Portuguese gastronomy, incorporating products from Canada and the United States.

Chiado represents the diversity and innovation of Portuguese cookery, both regional and cosmopolitan.

The name Chiado is a tribute to the oldest neighborhood in Lisbon. A special place where great food and wine are enjoyed in wonderful bistros.

It's hard to be wowed by seafood in Toronto, but at Chiado owner Albino Silva has fresh fish flown in daily from Portugal — Azores Islands, he makes sure all dishes are artful and authentic

.

Fresh baked Portuguese bread, oil and olives are brought out while you peruse the menu.

An amusement comes while you await your order, perhaps a delicate fresh cheese sliceable with a fork.

The fish, of course, shines from simple "Grilled Marinated Sardines" to "Pan-Seared Grouper" and "Giant Juicy Tiger Shrimp" spiced with "piri-piri".
Be sure to leave room for the classical Portuguese desserts.

"Natas do Ceu" (crème layered on almond liqueur-soaked ladyfingers, topped with egg nectar).

The wine list showcases Portugal's best Niepoort's Douro wines, Barca Velha, Quinta do Crasto, Luis Pato and other treasures.

Ports include a good selection of tawnies and whites by the glass.

My favorite dishes are:

For Appetizers:

Grilled Squid:
with fresh coriander, lemon, garlic, olive oil and served with sweet peppers, charred tomato, & caramelized leeks at – C$15.00
Sardines Marinated:
with lemon, parsley, olive oil and served row or roasted at – C$12.00
Grilled Tiger Shrimp:
spiced with "piri-piri", roasted jalapeños & banana peppers at – C$25.00
Lobster, Octopus, Shrimp:
citrus tarragon aioli at – C$20.00
Carpacio of Grouper:
white asparagus, roasted pine nuts & citrus preserves at – C$16.00

For the main dishes:

Pan Seared Grouper Filet:
with marine salt, garlic, dry spices and fresh herbs at – C$40.00
Grilled Filet of Salted Cod:
olive oil and garlic at – C$38.00
Grilled Octopus:
roasted sweet pepper salsa at – C$45.00
Assorda:
or "dry soup" with monkfish, lobster, shrimp and clams at – C$45.00
Pan Seared Loin of Monk Fish:
with glaze of piri-piri, honey and mustard at – C$40.00
Seared & Roasted Beef Tenderloin:
crusted with black peppercorns, served with Tawny Port sauce at – C$45.00
Daily Fresh Fish Flown in from Portugal:
at market price

For desserts:

Natas do Ceu
Sorbets
Ports
tawnies and whites by the glass.

Chiado Restaurant

864

College Street West
Toronto,
Tel: (416) 538 1910
Owner: Albino Silva
Chef: Manuel Vilela (since 1991)
Assistant Manager Antonio Cavaco
Open 7/7
Lunch: 12:00–2:30 PM
Dinner: 5:00-10.00 PM

And Remember …

In Toronto; no seas tonto, go Latin!!

*******************************************

Freddy Santamaria "The Smooth Operator"

Fredmarcom@aol.com


Paris, France – November 9, 2009

For EDA Confidential:

www.aycinena.com

Copyright © 2009 Freddy Santamaria

All rights reserved.